Livy is still grunting. I can't remember if I mentioned this before, but apparently preemies do this grunting thing and while it's marginally cute, it's also fantastically annoying. They do it while sleeping. Strange. They can be dead asleep and suddenly break out into a grunting chorus. Fortunately, Lauren and Makenna are quieting down as the days progress. Livy, on the other hand, is still going strong. One triplet mom described it as sounding like farm animals. She hit the nail on the head. So, yeah, sounds like we live in a barn. Not only did I birth a litter, but I now live in a barn. With a new mother's ears, these grunts are impossible to sleep through. Ugh.
So we passed their official due date and we now have little "newborns". The girls are staying awake more during the day and we actually get to have a little play time now. Play time mostly consists of them sitting on our laps being talked to and kissed repeatedly as they stare back in awe. Every so often I get what looks like a smile, but since it cannot be replicated, it's probably just gas. We also keep them in their swings sometimes so they can listen to music and watch their mobiles. A few days ago we brought out the boppy pillows again and started tummy time. Since the girls sleep so well on their tummies, we actually let them sleep on their tummies in the boppies quite a bit during the day. So tummy time starts out with the best of intentions, and suddenly they drift off to sleep.
This weekend brought lots of gas, constipation, and an umbilical hernia for Lauren. We have started offering gripe water and will be changing up their formula today in hopes that they will poop again. Livy's formula costs $30 for a small can. Can you say "insurance"? We'll be requesting an authorization for that crap ASAP.
Our big milestone moment of the week was a couple of nights ago when Lauren held her head up for longer than just a few seconds. First of all, she has a GIGANTIC head, so this was a pretty big fete. Granted, there was lots of bobbing, but you would bob, too, if your little neck had to hold up an abnormally large dome. Anyway, her little trick was replicated again last night sans bobbing. She actually pushed herself up with her arms and held her head high, then turned it side to side to look around. She had so much control (I feel like an American Idol judge when I say that). So I'm officially considering that a milestone. Lauren can hold her head up. Yay!!!
Below you will find some pictures of the past week or so...Oh, and we are all losing hair (even me), so please don't make fun of our bald spots.
ps...I turned 30. 'nuff said.
Livy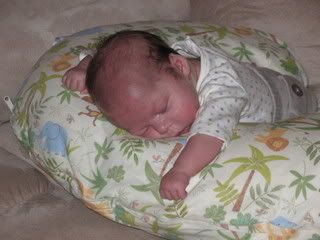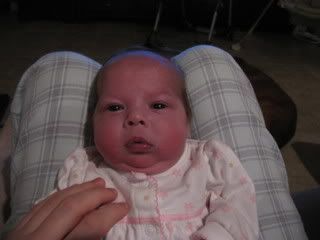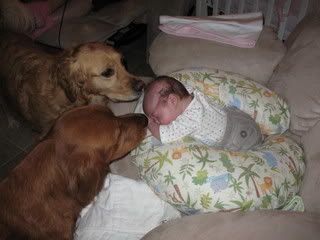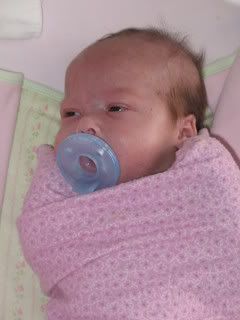 Lauren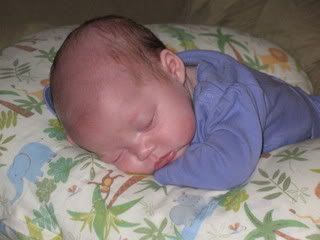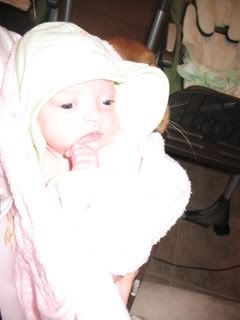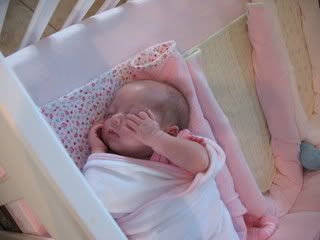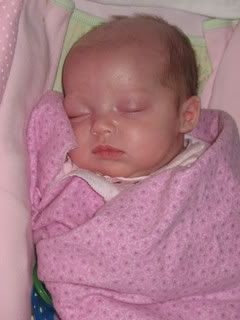 Makenna