We have 3 little graduates who just moved to the step-down unit of the NICU!!! We arrived on Friday to find Makenna and Lauren on the "other side" of the NICU, which is used for less critical patients. By Saturday Olivia was moved over, as well. While there are other step-down NICUs in the hospital, chances are good that the girls will be released directly from NICU III. Our nurses told us that they like to keep their long-term babies in NICU III, if at all possible, and avoid them moving over to other NICU suites. Additionally, they really like to keep the multiples together, so they prefer to move them all at the same time, if possible. All of that said, this may be their final room before coming home with Mommy & Daddy!
There really aren't too many other important updates. All 3 girls are breathing with no assistance and are up to a good ounce plus of tube-fed breastmilk every 3 hours. Rumor has it that Makenna will start bottle feeds early this week. Lauren shouldn't be far behind. Not sure of the plan with Olivia yet. Their primary focus with her is weight-gain. Bottle feeds may be too taxing right now, so they may wait on those. We'll see, though.
So the way bottle feeds will work is that they will start them on one feed/day. As they tolerate that, they will increase to 2/day, 3/day, etc. Apparently as soon as they start bottle feeds, I need to let the doctor know that I want to breastfeed. I should then be able to put them to the breast fairly quickly, so long as they are tolerating their feeds.
It sounds like once they master feeds, we can try to move them out of isolettes and into cribs. They usually don't do cribs until they reach around 4 plus pounds, so we do have a while on that one. Currently they are weighing in at:
Makenna - 3 lbs 8 oz
Lauren - 3 lbs 13 oz
Olivia - 3 lbs 5 oz
If everything continues to progress as well as it has, Paul and I anticipate bringing some babies home by Christmas...maybe even mid-December!!!
Here are some pics and videos of the last few days:
Lauren
Lauren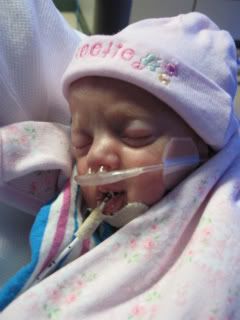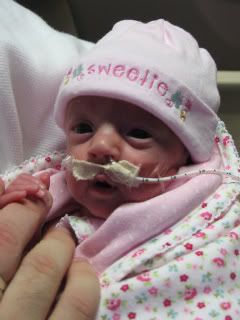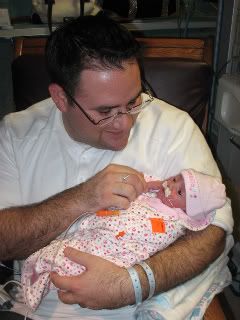 Olivia - pay attention to her hands in the first pic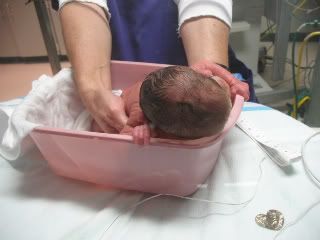 Hopefully we can get some pics of Makenna tonight. There never seem to be many lights on around her, so it's hard to get anything since we refuse to use the flash. And she always seems to close her eyes during picture time. Tonight is her bath, though, so perhaps Paul can play photographer while I bathe her.